With the release of iQ3Connect v2023.5, creating XR content has never been simpler. Whether for 3D product reviews or XR training authoring, our one-click, automated 3D model-to-XR processing is now extensible and customizable, enabling our customers to incorporate their own formats and libraries. Moreover, users can now leverage their XR assets to seamlessly capture 360 images of the virtual environment for walkthroughs and training. v2023.5 also introduces an optional lobby/waiting room feature to improve meeting security and participant management. Below are some additional details on these revolutionary updates.
Extensible and Customizable CAD-to-XR Processing – We have created an SDK to enable 3rd parties to create and add their own 3D CAD processing to the iQ3Connect platform. The SDK provides our customers with valuable tools to incorporate their own proprietary formats or other commercially available libraries that are not supported in the production release of iQ3Connect. The SDK provides access to customize not only the model geometry but also  the metadata and model tree visible within iQ3Connect workspaces, improving integration to PLM and support for various business processes. The SDK is provided with example projects and documentation to enable rapid development.

Virtual 360 Image Capture – Users can save 360 images from within the iQ3Connect workspace centered at a user's position. The 360 images are available as assets in the iQ3Connect Hub for reuse in various XR experiences such as interactive virtual walkthroughs, tours, and training. The 360 images provide for a lightweight XR experience, which has traditionally required physical hardware (ex. cameras and scanners) and access to facilities and equipment to create. With Virtual 360 Image Capture, these XR experiences can now be created using your digital twin data, eliminating repeat travel and site visits.

Workspace Lobby for Added Security and Participant Management – All multi-user workspaces and classrooms can now be optionally set up with a lobby/waiting room. This provides an additional layer of meeting security and management. When the lobby option is enabled, participants must first join the lobby with no access to other participants or 3D models. The Host of the workspace can admit/deny participants into the workspace and can even remove them back to the lobby (or out of the meeting entirely). This optional lobby capability can be turned on/off during the workspace creation process with the default on/off status and company branding/text customizable from the workspace settings.
Feature Spotlight: Rapid Immersive Training Creation
Check out this simple immersive training on the basic components of a centrifugal pump. It was created in under 2 hours from the original CAD data. This training is accessible from any AR, VR, PC, tablet, or mobile device.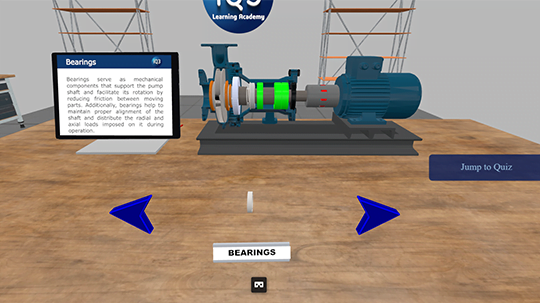 For easy access to the Centrifugal Pump Training on a mobile device, scan the QR Code below.